Easy to Use
Quick and easy to use
GS Onestop does the hard work for you
Always Available
Even when your communication lines are down GS keeps working
Full Support
Support and Training is available from our highly trained technicians
Staying ahead of the game...
Improve the day-to-day running of your business and deliver excellent service, productivity and profitability!
Today looking after a workshop requires precision and reliability to help balance the needs of your customers and your business.  GS Onestop pulls together all the strands of your business so you get the most out of your working day, every day.
Designed alongside leading workshops from around the country, GS Onestop is an intuitive system that allows you to manage all aspects of your business from Customer Management, Service Scheduling to Parts Look-up and Invoicing.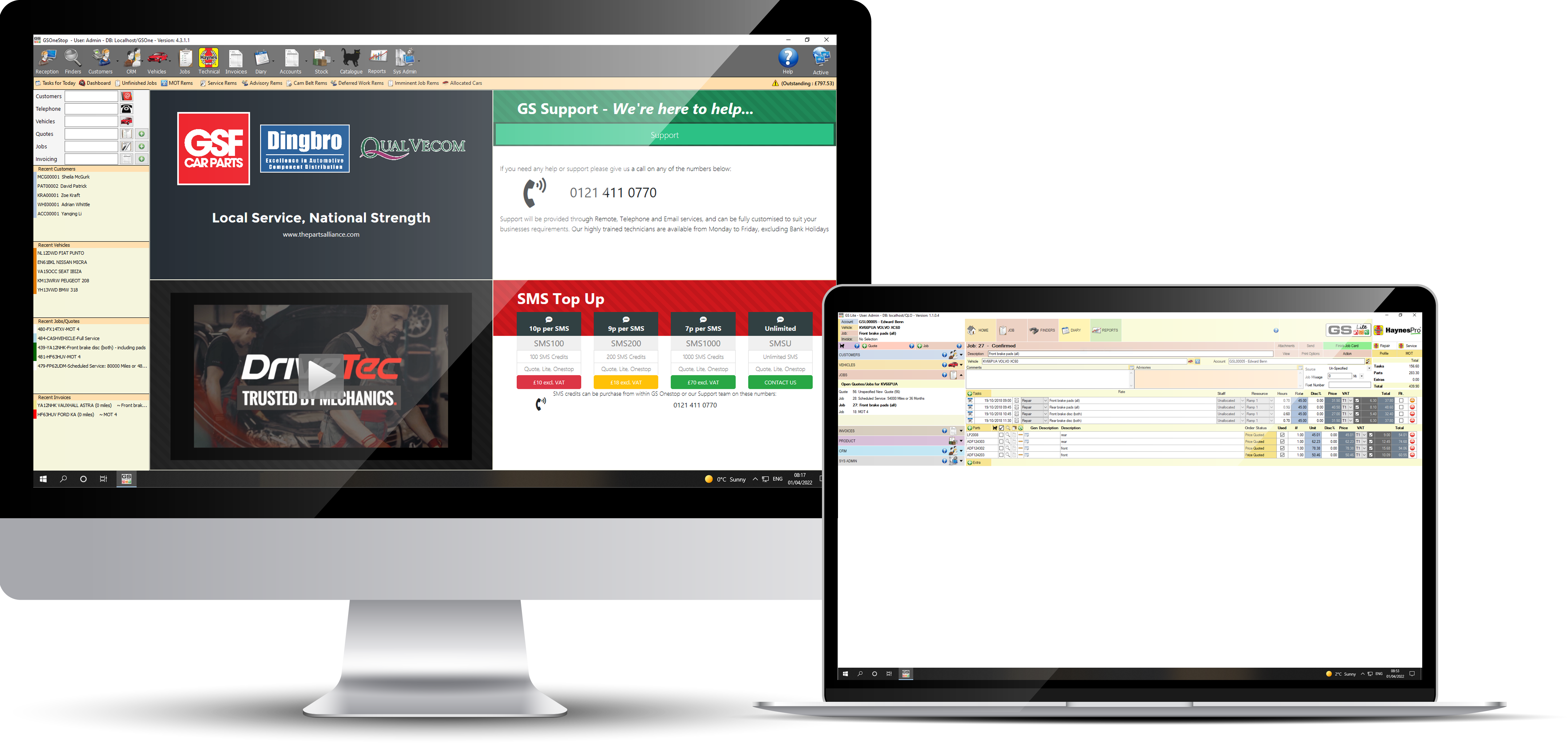 Making complex operations simple and easy for the modern workshop.
GS Onestop will help improve the day-to-day running of your business and deliver excellent service, productivity and profitability.
What our customers say about GS...
We tried other systems and, while each one was good at one or two tasks, none of them did everything we wanted.
If I can use this program anyone can as it's very technician-friendly. While other programs can be confusing, GS Onestop is easy to use – from the initial job quotation and service booking through to creating the final invoice.
We have been using GS Onestop as our workshop computer program for over 3 years now. We couldn't be without it, the program works extremely well and caters for all our workshop needs, from stock taking to invoicing – it covers it all.
The customer service is great, Cassie, in particular is super helpful and always goes out of her way to ensure we get any issue resolved quickly and efficiently. Training was great from the outset – super patient with us, and explained things clearly.
Really great workshop programme, would highly recommend.
We've been using GS Onestop for a couple of years: It's very user friendly and there's no financially driven tie-in. It has been our best investment over the last 5 years.
The support that a customer receives from the GS Team is second to none. Any queries at all that I have had using the programme have been dealt with in a professional, friendly and courteous manner by the team. It is also very reassuring that I have the full back up of these guys. Nothing is too much trouble.
Our summary of GS Lite "JUST BRILLIANT", 10/10. Highly recommended.
"I've been using GS Onestop since its launch and have been impressed by its functionality and ease of use.
"The Autodata Service & Repair function has been invaluable in helping me plan my day efficiently as well as calculating service times and costs. And in-built online ordering through AlliCat ensures I always have the parts I need, when I need them. In addition, Autodata Online is available instantly, giving technical guidance for the car being worked on, speeding up the repair process.
I recently had my Motor Codes Garage Audit, the inspector from the RAC was very impressed with the SMS communication function within GS Onestop.
I received a 100% award from the inspector"
We have been using GS Onestop for over 12 months now and we are very satisfied with it. We found that it produced more professional looking invoices for us and we found the Accounts side of the system very useful. We have found GS Onestop has improved our image to our customers and made producing our year end accounts a lot less hassle
The support staff at DDS have been fantastic and always willing to help when we have issues or if we need new staff trained on the programme.
Switching to GS Onestop has helped our business grown from strength to strength and 3 years ago we moved into a much larger premises, we now employ 2 full time receptionist who have previously worked in the Franchised Dealer network and they have commented on how much easier GS Onestop is to use compared to the DMS they had previously used.